News
Sara Plum named president of state newspaper association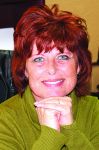 Sara J. Plum, editor of county newspapers in Minnewaukan and Lakota, has been elected president of the North Dakota Newspaper Association. Plum was elected Saturday, May 7 at the association's 130th annual convention in Crosby. She succeeds Cecile Wehrman, publisher of The Journal in Crosby and The Tioga Tribune.
read article >5/11/16 (Wed)
North Dakota's top newspapers selected

Five newspapers have been judged best in their classes in the North Dakota Newspaper Association's Better Newspaper contest, plus many others were selected as special award winners. Awards were presented at the 130th Annual NDNA convention in Crosby, ND on May 6.
read article >5/11/16 (Wed)