Time to rally against harmful legislation
1/15/21 (Fri)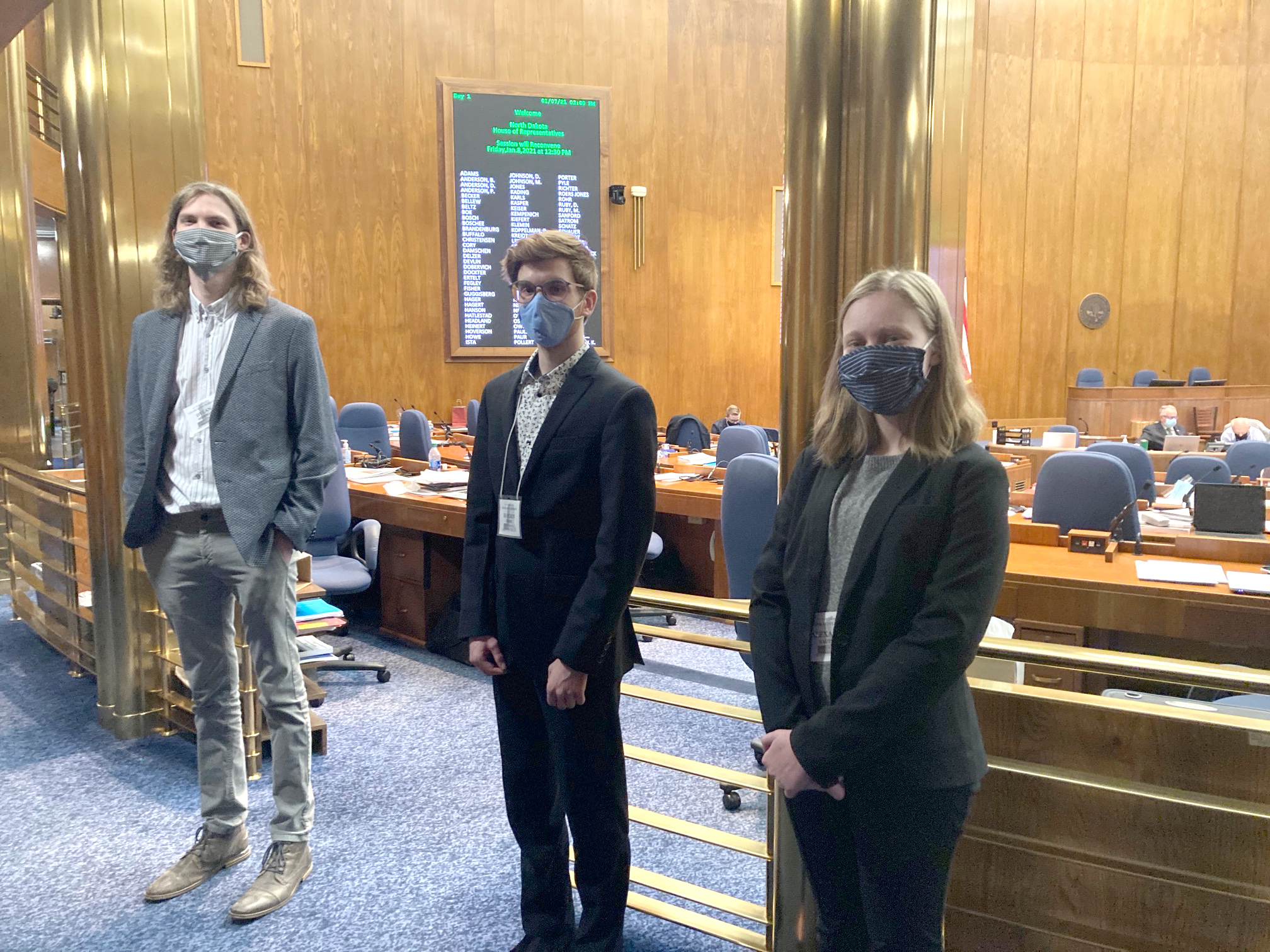 Photo cutline: From left are Dylan Sherman, Brayden Zenker, and Alex Kautzman, NDNAEF legislative interns covering the session for member newspapers.
___________________________________________________________________________________________________________
The 67th session of the North Dakota State Legislature is in full swing – albeit with some modifications in place to help curb the potential spread of Covid-19. Public testimony is in some cases limited to written submissions, but that presents an opportunity: Even if you aren't able to travel to Bismarck to testify, your outreach to legislators can have a big impact in ensuring proposed legislation that would harm the state's newspapers is dead on arrival.

Here are a few of the bills that we are following closely. Please contact your legislators about these bills, especially if they are a member of the committee considering them.
HB 1062
This bill would have eliminated insurance legals published in newspapers, but was unanimously voted not to be recommended in committee. There's more about this inside.
HB 1108
This bill would eliminate the requirement that county treasury payments (essentially, bills paid) from being published in meeting minutes. This would shorten minutes and would result in less public oversight of county spending. This bill was set for a hearing before the House Political Subdivisions Committee just after Bulletin press time.
HB 1296
This bill would make mug shots confidential until a person is convicted of a crime, unless they fail to make a court appearance or are a fugitive from justice. It was introduced by Reps. Roers Jones, Boschee, Lefor, Mock, and Pyle; along with Senators Dwyer, Lee, Oban, and K. Roers. It had not yet been scheduled for a hearing at Bulletin press time.
HB 1127
This bill would essentially impose a gag order upon any public employee who provides information to the Attorney General's office about allegations of financial misconduct, attempting to keep such allegations private until/unless criminal charges are filed. It would also require employees working with the State Auditor's office to remain silent about matters forwarded to the Attorney General's office until a determination is made as to whether there is probable cause that a violation of law has occurred. It was introduced by Reps. Heinert, Damschen, Dockter, M. Johnson, Kasper, Lefor, and Porter; along with Senators Dwyer and Bell. No hearing had been set at press time.
SB 2069
This bill would close records of applicants for public employment when there are fewer than three applicants, which currently means they are open because they are considered automatically finalists. This bill was first heard by the Senate Government and Veterans Affairs Committee, then referred to the Government and Veterans Affairs Committee.
SB 2107
This bill would exempt from open records information relating to Department of Corrections internal investigations. In practice, Department of Corrections says records would only be closed to protect the safety of a victim or informant, but the language of the bill is broad enough to close any such records. The bill was introduced to the Senate Judiciary Committee, which delayed its vote for possible amendments until just after press time.
SB 2098
This bill would remove the requirement that the State Patrol publish notices on abandoned vehicles. The Judiciary Committee unanimously approved a do pass recommendation.
For further information, contact Sarah Elmquist Squires,
NDNA Executive Director,
866-685-8889 or sarahes@ndna.com