Legislative interns ready for important session
12/22/20 (Tue)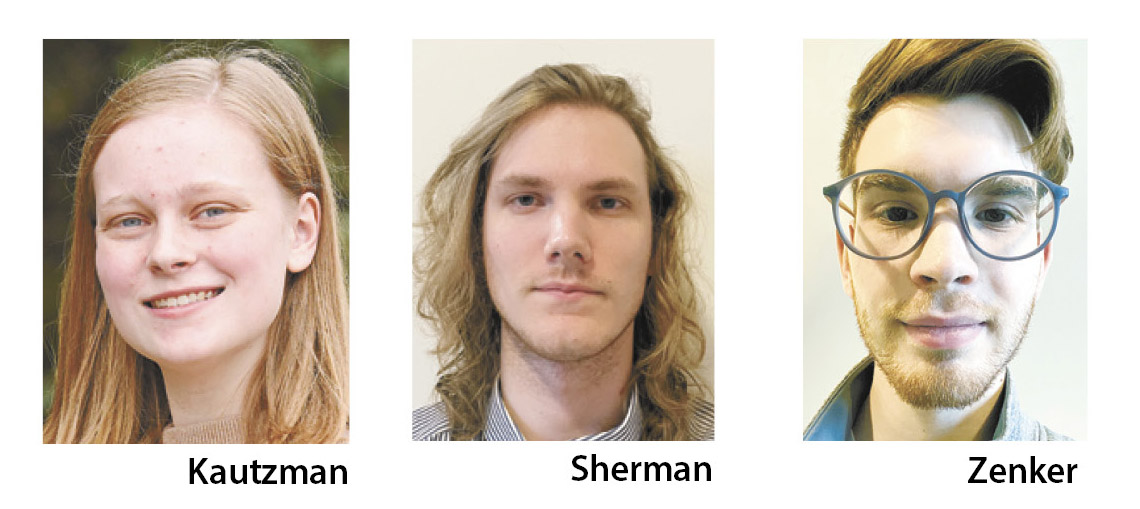 Three interns are gearing up to cover the upcoming legislative session as part of the North Dakota Newspaper Association Education Foundation internship program. Alexandra Kautzman, Dylan Sherman, and Brayden Zenker said they are excited to learn from the opportunity while sharing their legislative session articles with member newspapers.
Kautzman is a student at the University of Iowa in Iowa City, Iowa, expected to graduate in May 2023 with BAs in English and creative writing and journalism and mass communications. She has worked as an intern at the Bismarck Tribune and currently writes freelance articles for the paper. She was managing editor of the HiHerald Newsmagazine at Bismarck High School, along with being editor of PenSoul Literary Magazine while completing high school.
"I think I'm most looking forward to diving deeper into the governmental processes and having a better understanding of how our legislature works," said Kautzman. "I am also excited to hopefully help others learn more about the session through the stories that I write. I think it is important to take part in politics and even more so to understand it. I hope that this position will serve as a great learning experience for me and possibly for those that read my stories, too."
Sherman is a graduate of the Missouri School of Journalism, where he placed an emphasis on investigative reporting and attained a minor in history. He's worked as a reporter for Community Impact Newspaper in Tomball-Magnolia, Tx., and at the Columbia Missourian in Columbia, Mo., covering city and school government along with the public life and general assignment beats. During his high school career, he studied at NIST International School in Bangkok, Thailand, where he received an international baccalaureate and researched Moldavian politics for Boonrawd Brewery.
"I am most excited about getting my first opportunity to really learn the ins and outs of covering a state legislature," Sherman shared of the internship. "With the current pandemic, I think covering this legislative session could be the most important and exciting assignment during my journalistic career and possibly my life. I can't wait to get started and learn about the pressing issues in North Dakota."
Zenker is a student at North Dakota State University majoring in journalism with a minor in political science, expected to graduate in May 2022. He's the current editor-in-chief of NDSU Spectrum, and served as co-news editor of Legacy Today while he was a student at Legacy High School. He also spent time as a board member of the North Dakota Student Media Association, where he helped to bring together students and teachers to focus on issues facing student media, as well as find increased funding opportunities.

"The thing I'm the most excited about is covering stories that will have a direct impact on the citizens of North Dakota," Zenker explained. "These stories, to me, are the most rewarding stories to write. What happens during the legislative sessions decide the direction our state is going in the future. Due to COVID-19, this may be one of the most important legislative sessions in state history. I'm so excited to be a part of that history."

The three will work under the mentorship of former Grand Forks Herald and Minneapolis Star Tribune reporter Chuck Haga.
The legislative session begins the first week of January. Intern articles will typically be sent to member newspapers on Fridays, with a release date the following Monday. Send any questions or story ideas to sarahes@ndna.com or crhaga@gmail.com.
For further information, contact Sarah Elmquist Squires,
NDNA Executive Director,
866-685-8889 or sarahes@ndna.com