Three join NDNA's 50 Year Club
9/10/20 (Thu)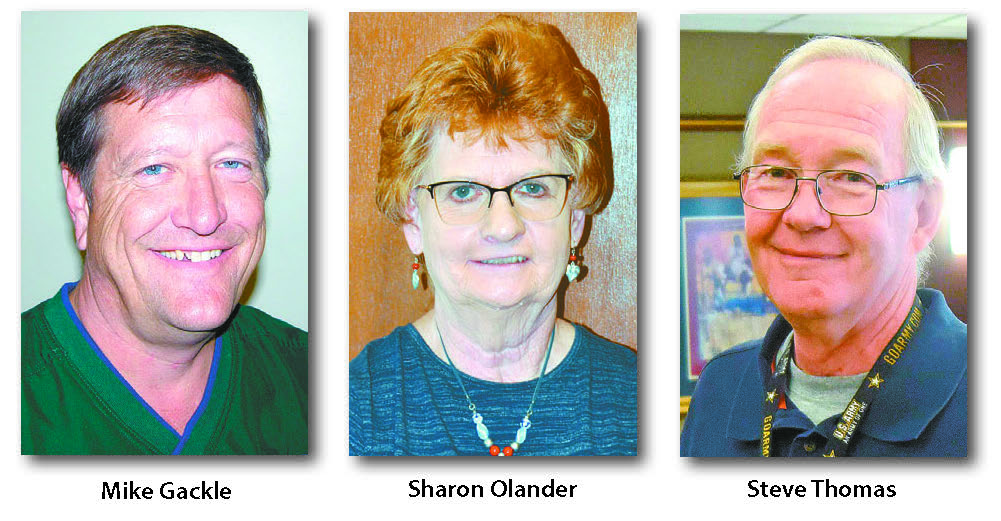 Three North Dakota newspaper staffers have joined the NDNA 50-year club after each completed a half century of service to the newspaper industry.
Mike Gackle of Garrison, Sharon Olander of Hazen and Steve Thomas of Bismarck were presented with plaques and certificates expressing appreciation for service to the newspaper industry.
Because this year's NDNA convention was cancelled, the awards were presented in ceremonies in their communities.
Gackle started his newspaper career while still in high school, working in Garrison for his father, Don. He attended both UND and NDSU before joining the family newspaper business, BHG Inc., which at one time published 11 newspapers. For many years he was president of BHG, which he still operates with his wife, Jill. Gackle served as president of NDNA in 2004 and also served on the NDNA Education Foundation board. He has long been active in the Garrison community.
Olander is office manager at the Hazen Star, where she started in 1970 as a part-time typesetter. She has also worked at the Beulah Beacon, and for many years wrote the "Cook of the Week" feature.
Thomas was reared in McVille. After graduating from UND he went to work writing news and sports for the Bismarck Tribune. He left to write sports for The Jamestown Sun, returning three years later to The Tribune sports department, where he still works. Thomas was North Dakota Sportswriter of the Year in 2012, the same year he was inducted into the N.D. American Legion Baseball Hall of Fame.
For further information, contact Sarah Elmquist Squires,
NDNA Executive Director,
866-685-8889 or sarahes@ndna.com