Oral history project captures impact on community journalism during a pandemic
3/15/21 (Mon)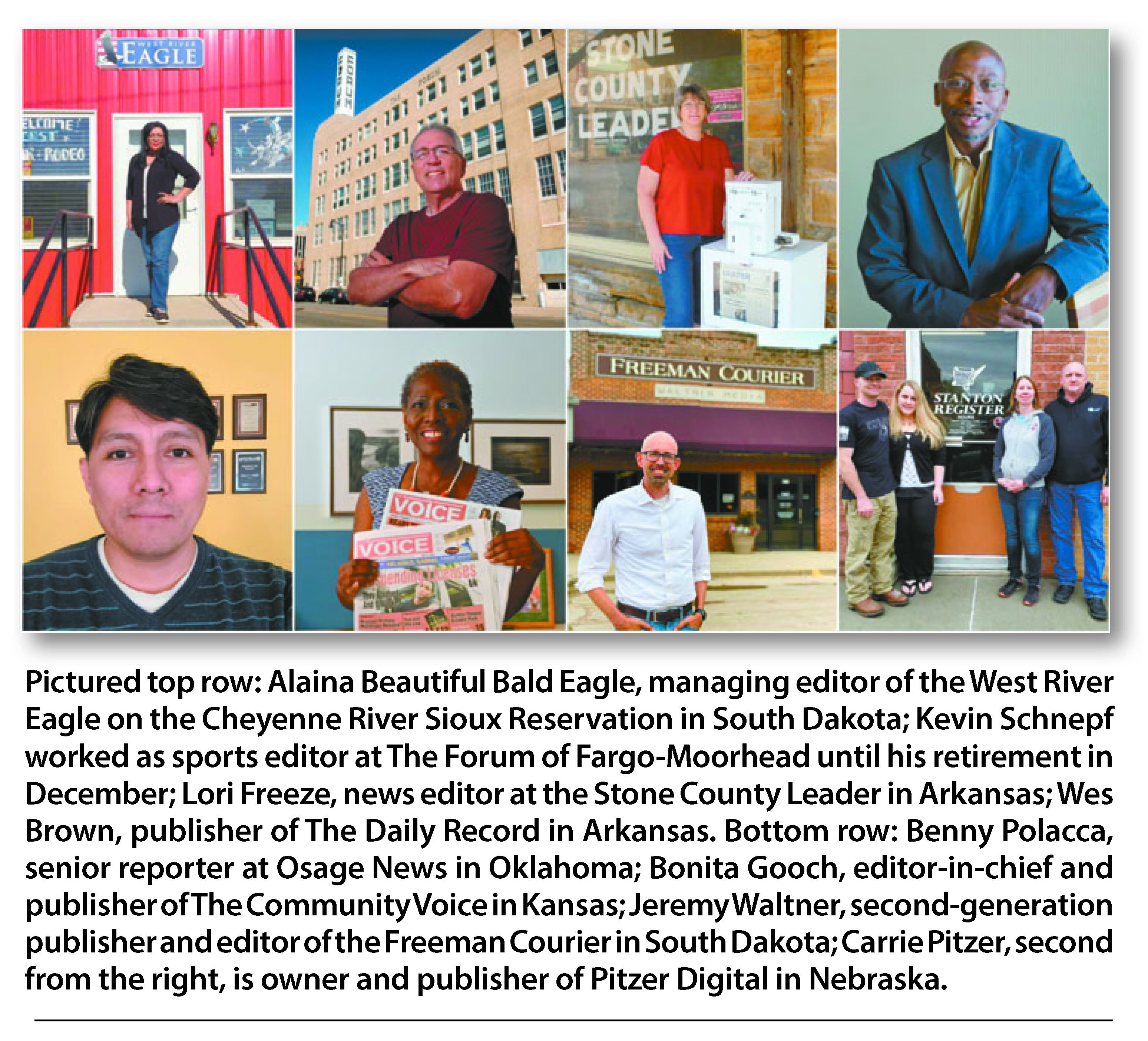 A new project preserving the history of the impact of COVID-19 on community journalism in the middle of the country is now live on Poynter's website.
About 700 pages worth of interviews with journalists from North Dakota, South Dakota, Nebraska, Kansas, Oklahoma, Arkansas and Louisiana capture the challenges and opportunities faced by rural newspapers in the early days of the pandemic.
Journalism historian Teri Finneman of the University of Kansas said the project primarily examines the impact at locally owned and family owned weekly newspapers.
The project includes: North Dakota: Steve Andrist, Jill Friesz, Kevin Schnepf, Cecile Wehrman, Amy Wobbema (and former Forum reporter Benny Polacca, now in Oklahoma); South Dakota: Alaina Beautiful Bald Eagle, Dave Bordewyk, Letti Lister, Jeremy Waltner; Nebraska: Bill Blauvelt, Dennis DeRossett, Amy Johnson, Carrie Pitzer; Kansas: Emily Bradbury, Bonita Gooch, Cynthia Haynes, Matt Tait, Joey Young; Arkansas: Wes Brown, Lori Freeze, Jeannie Roberts, Ashley Wimberley
"I really believe that community newspapers are the heart of journalism in America," said Finneman, who is publisher of a community newspaper in Kansas and worked in journalism in North Dakota and South Dakota. "And to see how this substantial moment in history is impacting the lifeblood of information in rural communities, we feel, is really important."
Historian Will Mari of Louisiana State University, who co-authored the project, said it was important to capture these stories while history was happening and memories were still fresh. "Many of them were about survival and getting through just the day-to-day life of a small town or a small region's newspaper," he said. "But also a lot of really profound and interesting things as publishers and editors struggled with how to pay their bills and serve as a resource for their communities and take care of their news workers."
Oral history allows for the capturing of history that would never otherwise make textbooks but is critical to preserve to tell a more accurate picture of the nation's past, Finneman said. Materials collected in the project, including transcripts, audio, photos and examples of news coverage, are now housed in each state's historical society in addition to Poynter's new site.
Finneman is also working on research papers related to the interviews to examine how journalistic routines more broadly were impacted, as well as newspapers' business models.
"These rural community journalists have played just an essential role at this pivotal moment in U.S. history, and this project is about capturing their stories," she said.
Find the Poynter collection of the project at https://www.poynter.org/the-essential-workers/.
For further information, contact Sarah Elmquist Squires,
NDNA Executive Director,
866-685-8889 or sarahes@ndna.com