News
Stenehjem, Burgum trade barbs in gubernatorial debate

By Amy Dalrymple on May 7, 2016 at 3:35 p.m. CROSBY, N.D. – A governor's debate held in a small town North Dakota hockey arena grew heated Saturday when two Republican rivals got a chance to face off. The 90-minute debate sponsored by the North Dakota Newspaper Association was mostly polite until toward the end when candidates had the opportunity to ask an opponent a question.
read article >5/11/16 (Wed)
Froseth, Jacobs inducted into ND Newspaper Hall of Fame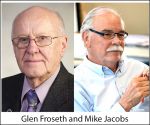 Glen Froseth, retired publisher of the Kenmare News, and Mike Jacobs, retired editor and publisher of the Grand Forks Herald, were enshrined Friday, May 6, 2016 as the 53rd and 54th members of the North Dakota Newspaper Hall of Fame.
read article >5/11/16 (Wed)