ND newspapers prevail as 'Best of the Dakotas'
10/18/21 (Mon)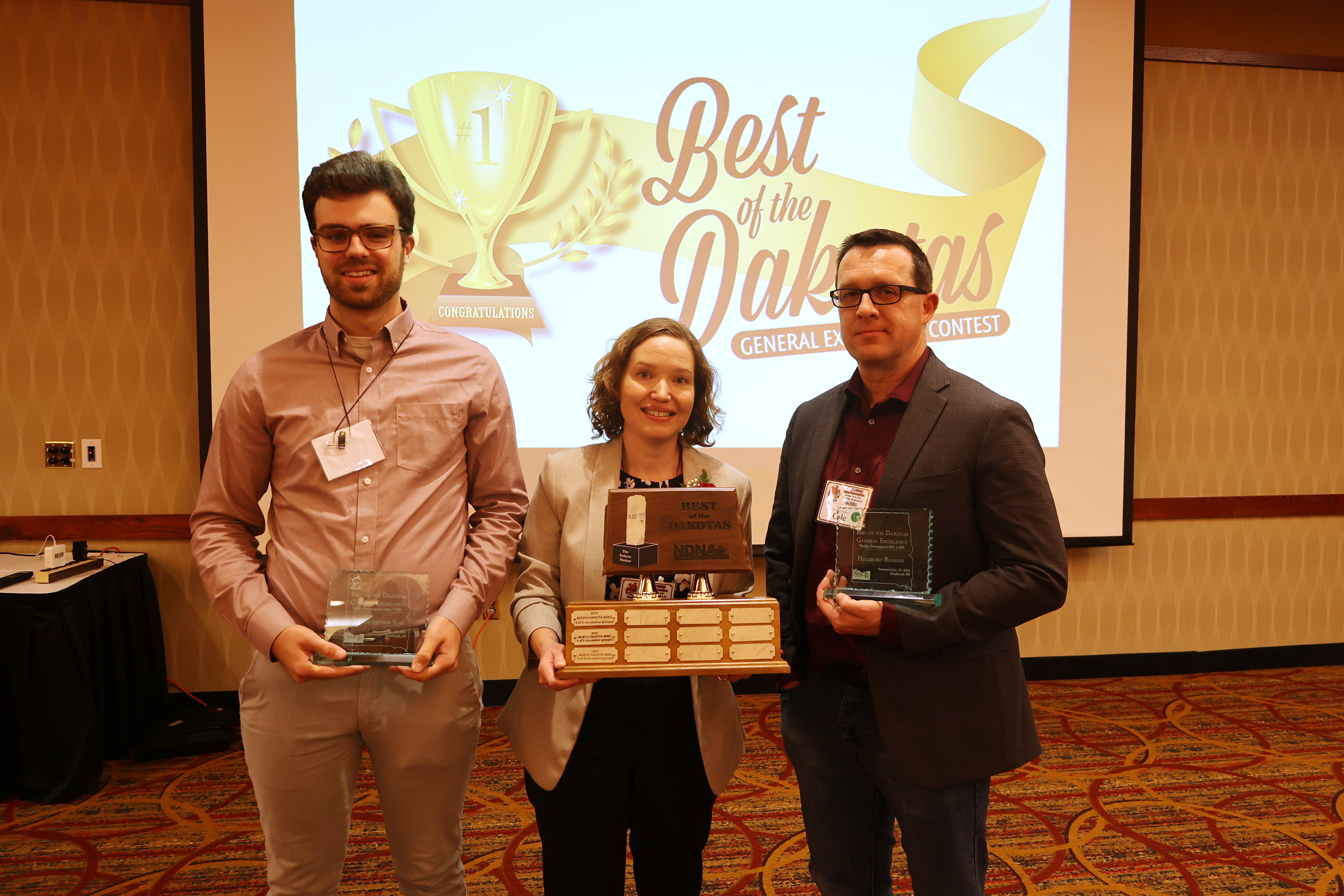 Photo: Jeremy Turley of the Forum News Service accepting for the Jamestown Sun, Amy Dalrymple, Bismarck Tribune, and Cole Short, Hillsboro Banner, take home the wins in their circulation divisions for the "Best of the Dakotas" contest. Awards were presented at the joint NDNA/SDNA convention in Deadwood, S.D. October 15th.
North Dakota newspapers brought home the gold last week, securing a victory in the Best of the Dakotas newspaper contest, sweeping three of five general excellence circulation categories and bringing home the traveling trophy in the rivalry contest between North and South Dakota newspapers.
The awards contest is held biennially during the two states' joint convention, this year held in Deadwood, S.D.
The Bismarck Tribune, Jamestown Sun and Hillsboro Banner each won in their circulation classes, with judges noting their excellence in advertising, editorial, and design.
The Tribune prevailed among all daily newspapers with circulations over 7,001 in both states. "Although all the entries were strong, the Tribune stood out for a number of reasons: excellent photography, an engaging editorial page with local editorials, outstanding local coverage and a clean and modern design," judges wrote. "Great work, Tribune staff!"
The Jamestown Sun took home first-place accolades among Dakota daily papers with circulations up to 7,000. "The Sun is an excellent small daily newspaper. It is filled with local news and it showed with its progress Edition in March 2021 that newspapers can still sell a bunch of local advertising if they have the content to justify it. The Sun knocked it out of the park with its 'Essential to Jamestown' edition," judges noted.
In the midsized weekly newspaper division, the Hillsboro Banner was again recognized as the top contender among Dakota papers. "This was a competitive circulation group, but the Hillsboro Banner stands out for many reasons," judges noted. "Among them: attractive, eye-pleasing design, solid local content, unparalleled sports coverage and pages, good editorial page, and excellent reporting/writing."
Each winning newspaper was recognized during the joint convention banquet on Friday, October 15, with an individual first-place trophy, and the traveling Best of the Dakotas trophy returned home to North Dakota after it was awarded to South Dakota papers in 2019. "We are pleased to be honored with the Best of the Dakotas award this year, recognizing the hard work and talent of our many North Dakota journalists," North Dakota Newspaper Association Executive Director Sarah Elmquist Squires stated. "Residents of our state are fortunate to have unparalleled news coverage in their hometown papers, giving them the knowledge to make a difference and keeping our communities strong."
For more information about the Best of the Dakotas, email sarahes@ndna.com.
For further information, contact Sarah Elmquist Squires,
NDNA Executive Director,
866-685-8889 or sarahes@ndna.com