Finally! Joint convention Oct. 14-16
9/15/21 (Wed)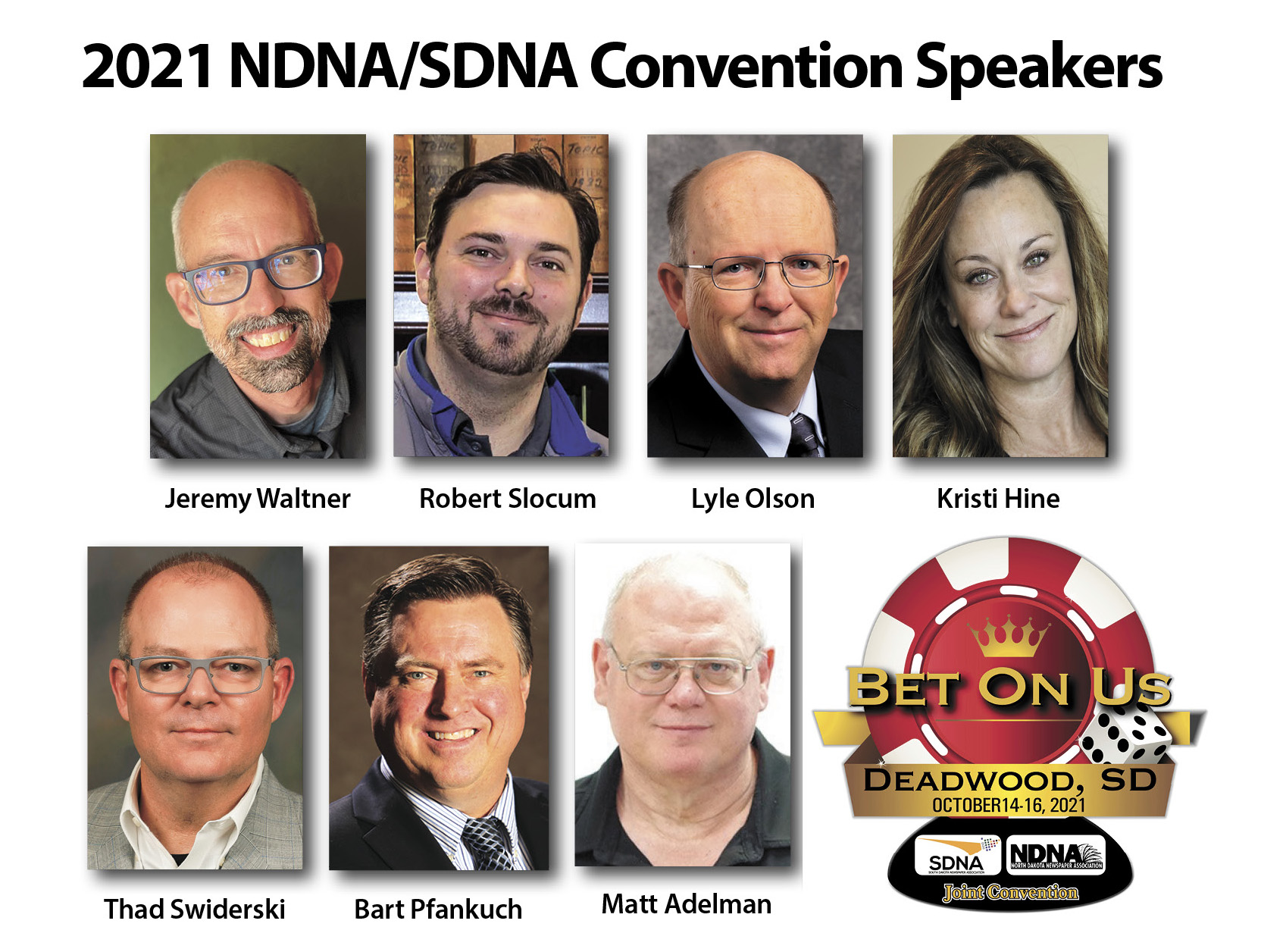 After a long hiatus, NDNA and SDNA will present a joint convention in Deadwood, S.D., on October 14-16, jam packed with valuable sessions and opportunities to connect with friends and colleagues.
On Thursday afternoon, the SDNA Board will convene in the afternoon, and a Thursday reception from 5-7 p.m. will be held at the Sanford Lab Homestake Visitor Center in Lead featuring hors d'oeuvres and a social hour.
Registration and breakfast will begin at The Lodge in Deadwood at 8:30 a.m. on Friday, when the silent auction and trade show open. A panel discussion on the future of print will be held at 9:15 a.m., followed by "Making the Leap: From Subscriptions to Memberships" by Jeremy Waltner of Freeman Courier at 10 a.m. "Building Revenue and Readership through Digital Projects" will be held at 11 a.m., featuring Robert Slocum of Timber Lake Topic.
Members will convene at noon for lunch, and at 1:30 p.m. will be a series of "Quick Takes," 15-minute presentations on important topics. One such take will be presented by Lyle Olson, retired SDSU Journalism Chair, who will present "What I Learned from Four Decades Teaching Journalism." "When Fire Breaks Out" will be offered by Kristi Hine of The True Dakotan, Wessington Springs, followed by "Newspaper-less Was Not an Option" by Tim Aughenbaugh of Kingsbury Journal.
Thad Swiderski of eType Services will share about how to sell digital advertising to offer advertisers a total audience at 3 p.m. Concurrently, "New Approaches to Finding Hidden Stories in Your Community" will be offered by Bart Pfankuch of South Dakota News Watch.
At 4 p.m. the SDNA and NDNA boards will convene, followed by a reception at 6 p.m. and the Presidents' Banquet with awards and honors at 7 p.m.
Saturday morning will feature a breakfast at 8:30 a.m., along with another round of 15-minute quick takes presentations. At this time, a National Newspaper Association update will be provided by NNA Foundation President Matt Adelman, and Teri Finneman of the University of Kansas will present takeaways from the COVID-19 oral histories project. The schedule is tentative, and more is expected to be added to Saturday morning's quick take sessions.
The Lodge expects to be full during the convention dates, so be sure to make your reservations today.
For further information, contact the
NDNA Executive Director,
866-685-8889 or director@ndna.com