Record recognized nationally with 11 awards, and other ND accolades
10/27/21 (Wed)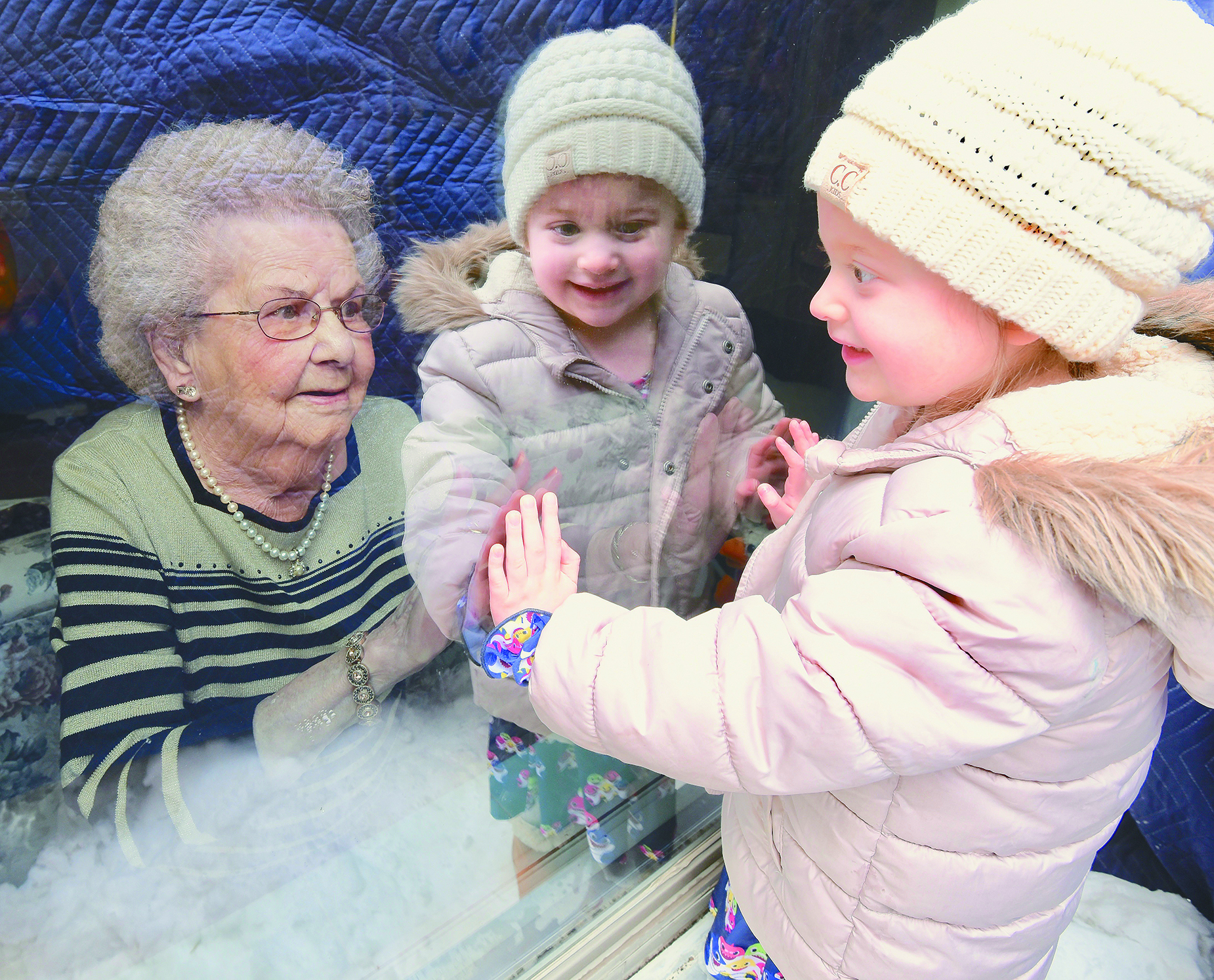 Photo, by Larry Biri: Grandma D and her granddaughter, by Larry Biri, won first place in NNA's 2021 Better Newspaper Contest.
The Walsh County Record won 11 awards in this year's National Newspaper Association Better Newspaper Contest, including four first-place awards for best reporting on local government, best feature photo, best sports section/page and best breaking news story.
"County Versus City" was an article regarding city of Grafton and Walsh County negotiations as they pertained to the city's police department renting space at the county Law Enforcement Center. Judges said the series offered a thorough look at a situation between county and city. Lots of layers to this story with each question answered by the end.
Another reporting first place went to "Police Conduct Manhunt By Land, Air." Judges said it was an interesting story from a variety of sources.
Sports Editor Chelsea Wysocki earned first place for best sports page for newspapers under 3,000 circulation. Judges said the photos displayed were attention-grabbing and the large font scores from the games a big plus.
Wysocki also earned a second-place award for her sports column about youth baseball. The judges said the column calls attention to baseball they way it "otta" be played. "This column calls attention to that. Nine-year-old baseball is a time for fun and learning and the writer points that out and that is important to youth wanting to play ball," judges said.
Wysocki also earned a third-place award for her work on mental health where she wrote a series of articles chronicling the challenges of the nation's mental health crisis. "Every week cast focus on a different person whose life was altered by mental illness. It was also nice to have an exclusive focus on mental health (for mental health month) and resist the temptation to do a COVID take on the issue — really nice reading," the judges said.
The last first-place award was for best feature photo of Grandma D and her granddaughter by Larry Biri. The judges said it perfectly captured a moment that was happening with so many families all across the country.
Biri also earned a second place for best breaking news photo covering the Red River spring flood of 2020 picturing two men in a boat checking to see if the sump pump at the farm was still running. "The strong depth of field and solidarity of the two men in the boat makes for a breathtaking composition," judges said.
The Record also earned a second place for best editorial page(s) and an honorable mention for best local news coverage.
"The awards show the balance of reporting from news, sports and features to photos that show a well-rounded newspaper," Walsh County Record Publisher Jackie L. Thompson said. "It's an honor for the paper to win national awards, but the recognition of the reporters and photographers shows a commitment to excellence that I am really proud of."
Other accolades
Alyssa Meier of The Leader-News netted a first-place win in the Michael Kramer Best Public Notice Journalism Award category for her coverage of a local bank president filing notice of her application to the Federal Reserve to obtain 55% share in the McLean Bank Holding Company, comprising three area banks. Judges noted it was "interesting to get a public notice to generate a business and financial news story."
As reported in August, The Journal in Crosby and the Tioga Tribune also received awards from the NNA contest, including:
* The Journal: 1st place, educational support and civic literacy, Cecile Wehrman; 1st place, best profile feature story, Cecile Wehrman; 1st place, best sports photo; Dave Tengesdal; 2nd place, best local news coverage; 3rd place, Michael Kramer Best Public Notice Journalism Award; Brad Nygaard, Cecile Wehrman, Jacob Orledge; 3rd place, best photo essay, Brad Nygaard; honorable mention, best special news, sports or feature section, Cecile Wehrman; honorable mention, best agricultural story, Brad Nygaard
* Tioga Tribune: 3rd place, best special news, sports or feature section; 3rd place, best business feature story, Jacob Orledge
For further information, contact Sarah Elmquist Squires,
NDNA Executive Director,
866-685-8889 or sarahes@ndna.com