Oakes newspaper quickly back on its feet after fire
3/19/18 (Mon)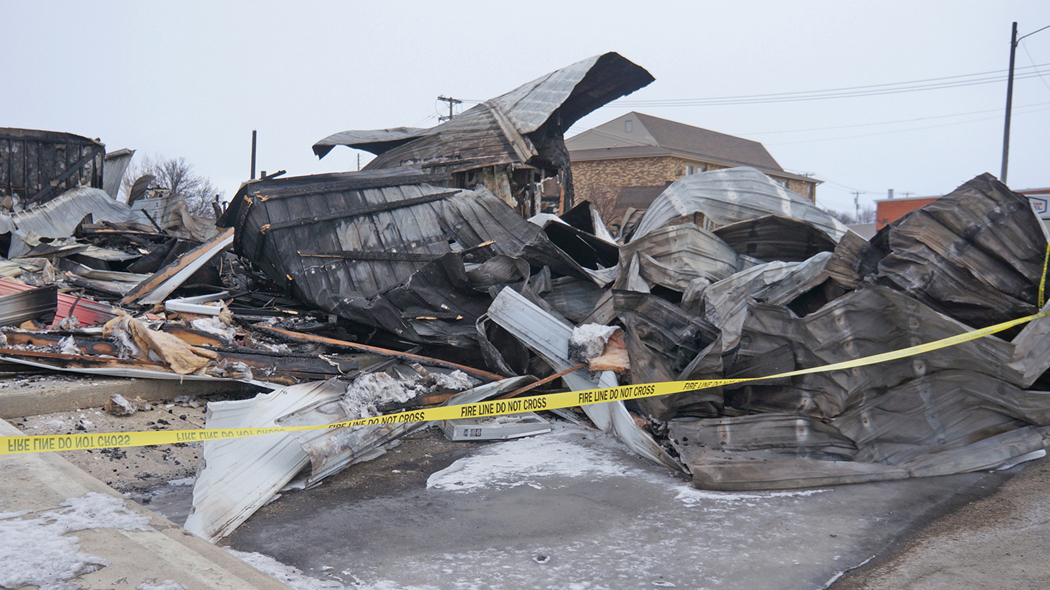 Without missing a deadline, the staff of the Oakes Times has overcome a fire that destroyed their office, and is now operating in new office space nearby.
Fire broke out in the early morning hours of Sunday, Feb. 25 at the Times' Main Street office. By the time firefighters arrived shortly after 1:40 a.m. fire was already into the building's roof and little could be done but to protect neighboring buildings.
Jason Nordmark of Nordmark Publishing in Rolla, owner of the Times, said there was little doubt that Editor Ethel Erickson and her staff would get the next edition out on time.
"It's not only a tribute to how seriously they take their responsibility," he said, "but also a show of dedication to their community."
"We were in disbelief for a little while," Erickson told the Jamestown Sun, "and then it's 'OK, how are we going to get the paper out? What have we got to work with?'"
Fortunately, she had recently taken a backup of all the computer files home, and their sister paper at Ellendale had a spare computer they could use.
Erickson said basically she, Dusti Farley and Jen Cuhel, the newspaper's salesperson/reporter, had from Sunday to Tuesday afternoon to get the paper to the printer for publication Thursday. They set up the computer in Erickson's home, she wrote the fire story, Cuhel got the advertisements together and come Tuesday afternoon the Oakes Times continued its more than 100-year tradition of putting out a paper for the Oakes community.
Perhaps the biggest tragedy of the fire was the loss of scores of bound volumes that contained the history of the community and the newspaper.
Nordmark arrived a few days later to look for new office space.
Because of the tragedy, the new landlord offered two months free rent, along with a desk, and others in the community donated additional office furnishings.
"All of this was humbling and reassuring," Nordmark said.
The cause of the fire has not yet been determined.
For further information, contact Sarah Elmquist Squires,
NDNA Executive Director,
866-685-8889 or sarahes@ndna.com