NDNA & NDNAEF Board Elections
6/05/19 (Wed)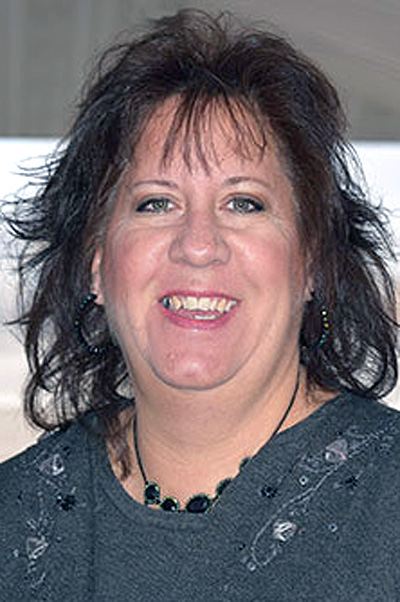 Karen Speidel, editor of the News Monitor, has been elected president of the North Dakota Newspaper Association, the 126th person to lead the association in its 133-year history.
Speidel was elected Friday, May 30 at the association's 133rd annual convention in Medora. Published in Wahpeton, the News Monitor covers rural communities in the southeastern corner of the state. She succeeds Paul Erdelt, publisher of The Steele Ozone and Kidder County Press.
"Newspapers in North Dakota have both a long history and a bright future," Speidel said.
"Despite a changing media landscape, they are the most trusted source of local news and information, and in our state newspapers are read every week in nearly 83 percent of households."
Matt Von Pinnon, editor of The Forum of Fargo-Moorhead, was elected first vice president of NDNA and Cecile Wehrman of Journal Publishing in Crosby and Tioga was elected second vice president.
Speidel, a graduate of St. Mary's High School and the University of Mary, both in Bismarck, started her newspaper career at the Williston Herald. She subsequently worked as a reporter, news editor and managing editor at the Daily News of Wahpeton-Breckenridge.
Von Pinnon is a graduate of Minnesota State University-Moorhead and has worked at The Forum for 25 years, half of them as editor.
Wehrman started her news career in television, before becoming editor of The Journal in Crosby and eventually purchasing Journal Publishing, operator of the Crosby and Tioga papers.
NDNA members also elected two new directors during the annual meeting. They are:
-- Amy Wobbema, publisher of the New Rockford Transcript. She is a graduate of Minnesota State University-Moorhead and has owned Transcript Publishing since 2015.
-- Amy Dalrymple, editor of The Bismarck Tribune. She has been a reporter for 16 years, working for the Forum of Fargo-Moorhead, Forum News Service, and The Bismarck Tribune, where she was recently promoted to editor.
Continuing on the NDNA board are Cole Short, publisher of the Hillsboro Banner, and Chris Slone, group editor for Country Media's southwest North Dakota newspapers in Bowman, Hettinger, New England and Killdeer, as well as it's paper in Baker, Mont.
Re-elected to the NDNA Hall of Fame Committee were Neal Shipman of Watford City, Jackie Thompson of Grafton, and Terry Schwartzenberger of Napoleon.
ND newspaper foundation elects new directors
Members of the North Dakota Newspaper Association Education Foundation have elected four new members to the organization's board of directors.
They are:
n Tom Gerhardt has been director of public affairs at North Dakota United since December 2016. He previously spent 23 years in television news, including at KXMB in Bismarck, KMOT in Minot and WDAZ in Grand Forks. He is a graduate of the University of North Dakota and lives in Bismarck.
n Rob Keller has spent nearly 30 years at the Jamestown Sun, where he currently serves as publisher and advertising director. He is a Jamestown native and has a business management degree from Valley City State University.
n Mary Kae Kelsch is director of the State and Local Division of the ND Attorney General's office, and previously held the office's open meetings/open records portfolio. A native of Dickinson, she graduated from UND and the UND School of Law. She has been with the AG's office since 2002, and before that was in private practice in Mandan.
n Laura Lueder has nearly 20 years of experience in corporate communications and public relations, and currently is manager of communications and public relations for MDU Resources Group in Bismarck. She has a journalism degree from UND and a master's in communications management from Syracuse University. She started her career in newspapers, working at the Bismarck Tribune and interning at the Minot Daily News and Grand Forks Herald.
Continuing on the board are Tom Monilaws of the Traill County Tribune in Mayville; Mike Gackle of BHG Inc. in Garrison; Kirsten Stromsodt of Forum Communications in Fargo; Gary Adkisson of The Bismarck Tribune; and Curt Pearson, retired communications director for Basin Electric.
With the election, three long-time directors of the foundation have retired from the board.
They are Aaron Becher, a vice president at Forum Communications in Fargo; Jack McDonald, a media attorney in Bismarck; and Jim Fleming, the state's director of child support enforcement.
Dustin Monke of Dickinson also stepped down from the board.
The NDNA Education Foundation is a charitable non-profit that supports journalism education, continuing education for working newspaper staffers, literacy, and First Amendment advocacy.
For further information, contact Sarah Elmquist Squires,
NDNA Executive Director,
866-685-8889 or sarahes@ndna.com