Kid Scoop News doubles its print run in January with two more printing plants
1/13/23 (Fri)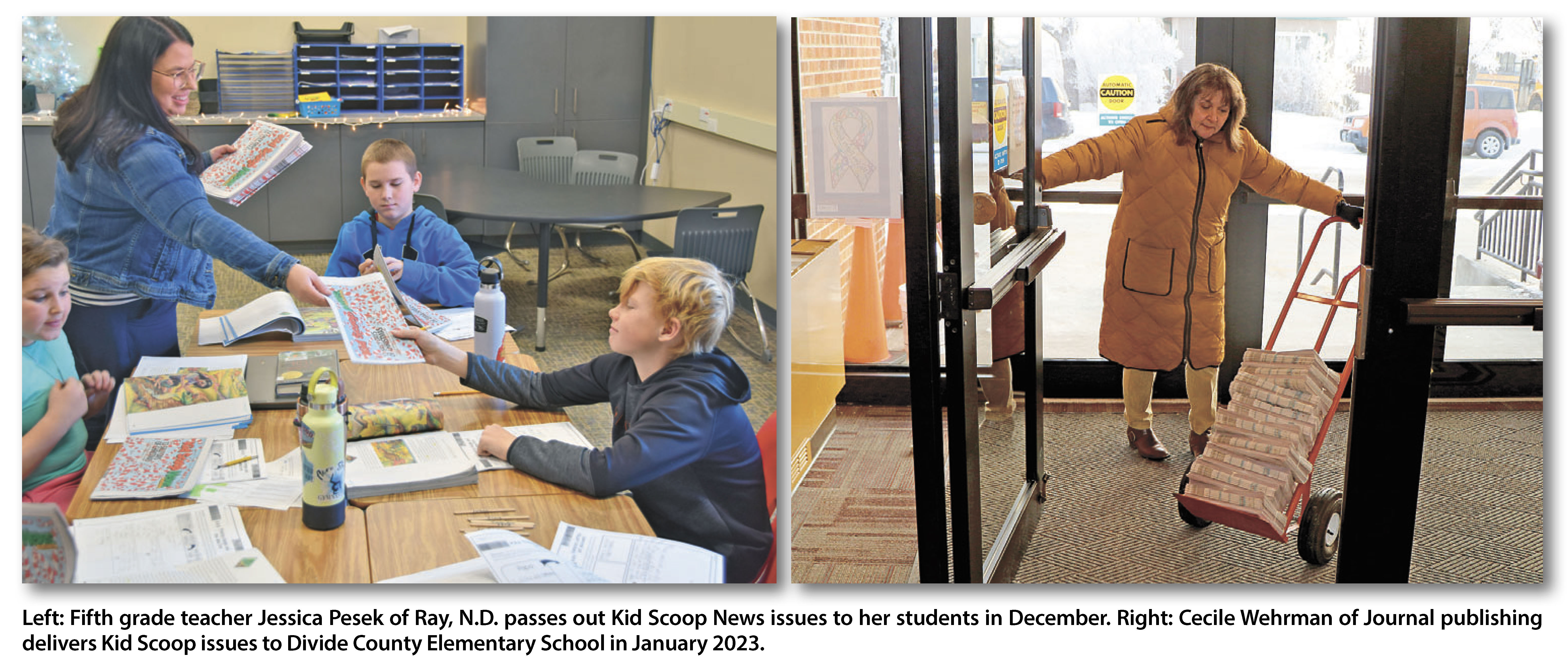 A newspaper just for kids is doubling its circulation this month in North Dakota, bringing on two more printing plants and three more delivery routes.
Since receiving notice last month of a grant allowing expansion of Kid Scoop News across western North Dakota, Project Leader Cecile Wehrman has been busy making contacts with partner newspapers and schools and working out the logistics to add printing and delivery to a total of 24,000 students.
In the process, laughed Wehrman, "I've learned a lot more about who publishes in which towns, which schools districts are named for their town, and which aren't, along with the different printing specifications different plants have."
Wehrman, publisher of The Journal and Tioga Tribune, was already fairly well acquainted with many fellow NDNA members, but connecting them each to the schools they serve has been challenging at times.
She spent the weeks ahead of Christmas flipping between a state map, the NDNA Media Guide and a listing of schools from the ND Dept. of Public Instruction.
"If not for recent blizzards ahead of the holiday school break, we probably would have been able to sign up all of the schools serving the 27,000-plus students in western North Dakota in time to receive January's issue," Wehrman said, but almost universally, schools and newspapers have been enthusiastic to either accept or help out with the program.
"In most cases, I've enlisted the aid of the newspaper publisher in each area to contact their school directly to explain what Kid Scoop is," said Wehrman. "That's an approach that's worked well since there's usually already a relationship there."
However, in the case of the smallest schools in communities without newspapers and the biggest districts like Williston, Minot, Bismarck, Mandan and Dickinson, Wehrman has pitched Kid Scoop News directly.
All of the districts receive either a preview copy from Wehrman or from their local publisher, so they can share it with teachers in advance of the hard copy arriving.
On the Northern Tier, issues from Westby, Montana in the west, and all the way east to Belcourt, predominantly north of U.S. Highway 2, are being printed by Greater Northwest Publishing in Minot.
NorDak North Publications in Garrison is printing Kid Scoop for the communities their newspapers serve on either side of U.S. 83, along with those of nearly all of the independent newspapers they also print, such as those owned by Jill Friesz of GS Publishing in the southeastern part of the state. Garrison will be adding more papers next month to take in more communities south and east of U.S. 83 and I-94, including Steele and Napoleon.
Both GNW and NorDak are printing tabs with a mixture of black and white and color pages.
Lee Enterprises is publishing Kid Scoop in Bismarck to serve the school districts in Bismarck, Mandan and Dickinson. Their press is able to accommodate a 24 page tab in a single section of full color and the size is just slightly smaller than those being printed at the other two plants.
Each of the plants are either helping with delivery or have connected Wehrman with carriers they use for other routes that are already traveling where Kid Scoop News needs to go. That's changed the model of what Wehrman initially envisioned as a delivery stipend for each newspaper.
"It turns out that since at least some of the areas can be served by existing commercial routes, most papers will only be hauling from their office to their schools," said Wehrman, but the goal is that no paper should have any additional costs for participating.
Filled with the cooperative spirit, some newspapers hauling a distance have even turned down a stipend. Each region/delivery presents a different situation and if a stipend is warranted or needed, it will be available, she said.
In exchange for acting as the local contact for the schools in their communities, every newspaper has their flag/mast printed, along with all of the other newspaper partners, on the bottom borders of Kid Scoop pages.
"Everyone understands what's at stake if we don't have literate future citizens. The need to make reading fun is a cause everyone can get behind," she said. Few newspapers these days have the time, staff or resources to launch their own Newspapers in Education program. For some, said Wehrman, Kid Scoop will be a way to bridge that gap.
Wehrman hopes funding can make expansion to the entire state possible by next fall. For questions, she can be reached at journal@crosbynd.com, or by calling The Journal, 701-965-6088.
For further information, contact the
NDNA Executive Director,
866-685-8889 or director@ndna.com