Apply knowledge you gain from this year's convention to create the reality you desire
2/15/23 (Wed)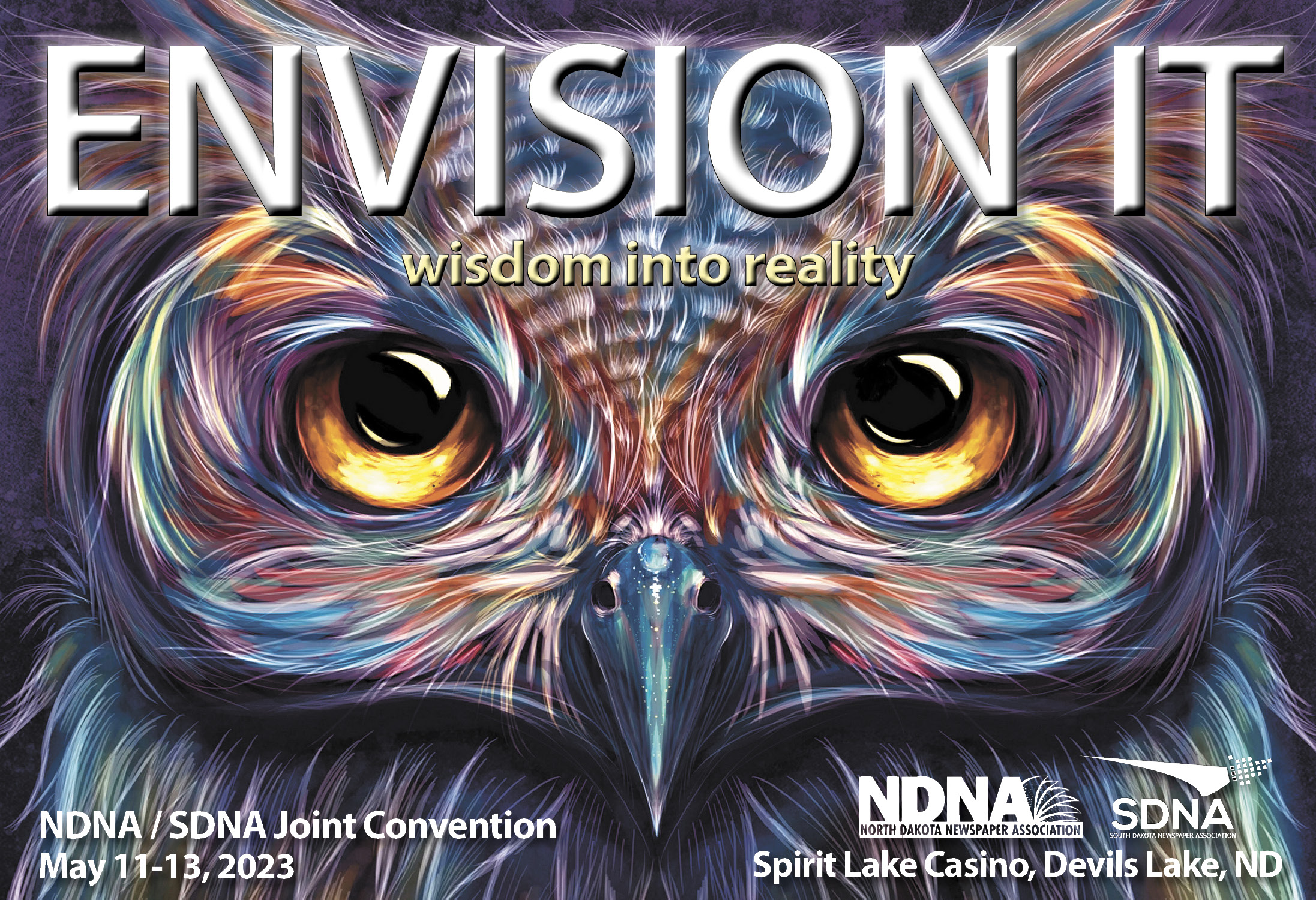 "Envision It: Wisdom into Reality" is this year's convention theme, with sessions that will provide experiential learning to equip attendees with the tools needed to build their future.
NDNA and SDNA will once again come together for a joint convention at Spirit Lake Casino at Devils Lake, ND on May 11-13, 2023 and share in food, fun, and comradery.
Thursday's opening reception will be held at a new brewery in downtown Devils Lake, the Black Paws Brewery. Tours at the Lake Region Heritage Center museum just across the street from the brewery will follow.
Friday's sessions include Jim Brown, President of the National Research Firm Borrell Associates, Williamsburg, VA. Brown will describe what the media landscape looks like today and give us a look to the future and how forces such as demographics, altered work habits, buying habits, and technology are pushing us toward the final stages of the democratization of media channels.
Friday will also see Lindsey Young, a practicing journalist and co-owner of Kansas Publishing Ventures, presenting a rookie employee training program called "Earn Your Press Pass." The self-paced, online training course is designed to help prospective and new employees get their feet on the ground. Lindsey has been immersed in community newspapering since she and her husband Joey Young purchased their first community newspaper, The Clarion, in 2014. Lindsey teaches simple interviewing and writing steps to make new reporters more successful. Additionally, the course outlines basics like newspaper jargon, editing and basic photography.
Other Friday sessions include a writing workshop with Chuck Haga of UND, and a best ideas spotlight called "Hot Seat" led by NDNA's 1st VP Cole Short of the Hillsboro Banner.
Friday evening's special awards banquet will induct into the NDNA Hall of Fame longtime newspaperman Mike Gackle, an NDNA past president, and previous owner, publisher, and chief financial officer of BHG Inc. for many years.
We'll also have a silent auction for NDNA and SDNA on Friday, and a tradeshow by registration Friday.
Jack McDonald and the GA group will deliver the annual legal review on Saturday, with words from SDNA's legal experts as well.
The NDNA and SDNA annual meetings will be held on Saturday and close out the convention.
Watch for more session details soon!
For further information, contact the
NDNA Executive Director,
866-685-8889 or director@ndna.com