Film premieres with red carpet event
6/16/17 (Fri)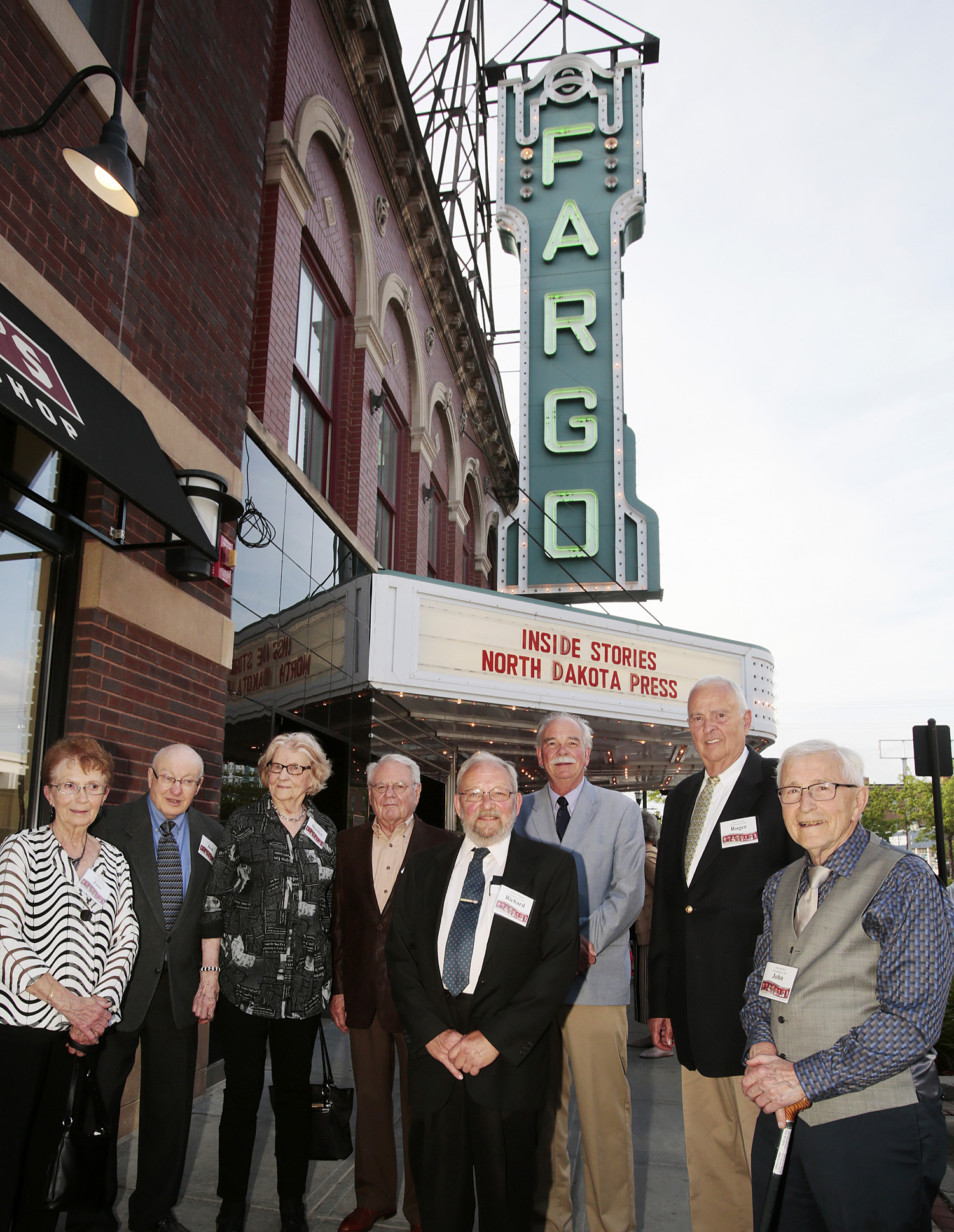 Photo credits: The eight "movie stars" featured in a documentary about North Dakota newspaper people are: Jane Brandt, publisher of the Hebron Herald; Bob Lind, Forum columnist; Marilyn Hagerty, Grand Forks Herald columnist; Bill Marcil Sr., former publisher of The Forum; Richard Peterson, retired publisher of the Benson County Farmers Press in Minnewaukan; Mike Jacobs, retired publisher of the Grand Forks Herald; Roger Bailey, retired publisher of the Turtle Mountain Star in Rolla and former executive director of NDNA; and John Andrist, retired publisher of The Journal of Crosby. Photo by: Dave Wallis -- The Forum
-----------------------------------------------------------------------------------
With eight "movie stars" greeting them from the red carpet, some 175 people came to the historic Fargo Theatre June 2 for the premier of "Newspaper Pioneers: The History of the North Dakota Press."
Teri Finneman, a former Forum Communications employee and current assistant professor of journalism at South Dakota State, produced the film for the NDNA Education Foundation.
Finneman conducted extensive oral history interviews with eight notable North Dakota newspaper people, and documentary students at the University of Missouri used the interviews as the basis for the film.
"The Fargo Theatre event was one of the proudest nights of my life," Finneman said. "It was so great to have all of the film's stars there together."
The film documents some of the history of the eight "stars," along with their reflections on both the history and the future of the newspaper industry.
Following the one-hour film, the eight subjects fielded questions from those in the audience.
For further information, contact Sarah Elmquist Squires,
NDNA Executive Director,
866-685-8889 or sarahes@ndna.com