Record grant package approved
11/14/17 (Tue)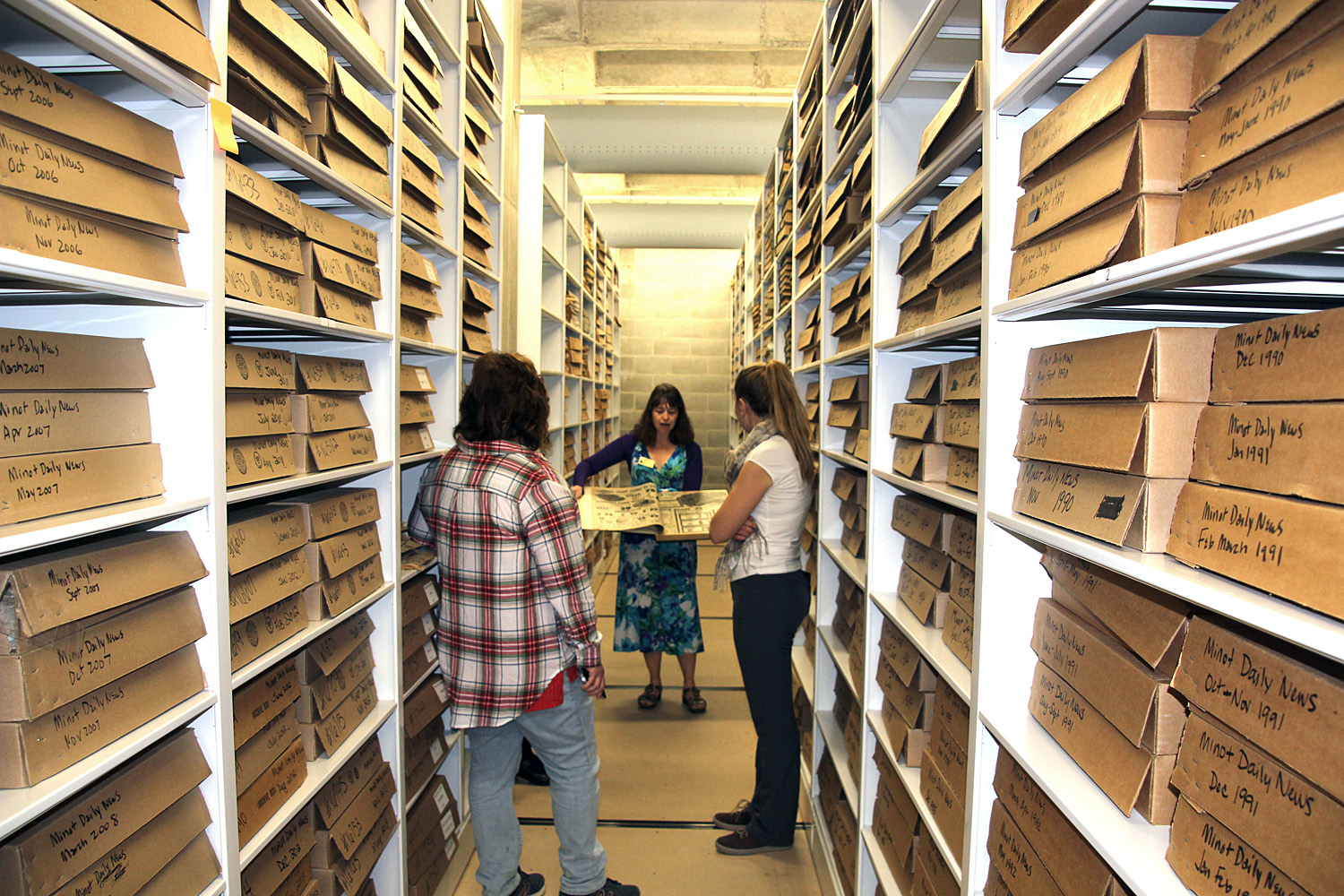 Photo: Sarah Walker, a reference specialist at the State Archives, leads newspaper staffers on a behind-the-scenes tour of the Heritage Center, stopping to display thousands of volumes of newspapers. The tour followed the Witham Symposium on Excellence in Newspapers.
=======================================================================================
Helping prepare young journalists for media careers is front and center in a record package of grants approved this month by the NDNA Education Foundation board.
In approving 13 grants for $77,200, both record amounts, the board doubled down on the internship program, helped launch a high school and college media association, continued funding scholarships and fellowships, and initiated a new program that will put journalism students to work for N.D. Newspapers.
At the same time it is continuing to support long-standing programs like the Witham Symposium, the Rural Health News Service, oral histories of state newspaper operators, and oral histories.
"It's exciting for the foundation board to be able to approve a record package of grants that we expect will pay dividends directly back to North Dakota newspapers," said Aaron Becher, president of the foundation board and general manager of The Forum of Fargo-Moorhead.
It's especially gratifying, he said, that the foundation's endowment continues to grow even as new programs are created to benefit newspapers.
The newest program established by the foundation is a collaboration with the UND School of Communication, where journalism students have "experiential learning" requirements.
To meet them, the foundation approved a $5,000 grant to fund reporting and editing students for three days of work at a local newspapers.
Two groups of up to five students each will be dispatched to two newspapers to spend three days working as reporters.
Students get the learning experience, and the newspapers get the results of their reporting. Newspapers will be asked to apply to participate in the program.
Meanwhile, the foundation board increased the amount designated for internships from $20,900 to $30,900.
The change will allow the number of college student summer internships to grow from eight to 12.
For further information, contact Sarah Elmquist Squires,
NDNA Executive Director,
866-685-8889 or sarahes@ndna.com