Opponents line up against costly tariffs
8/16/18 (Thu)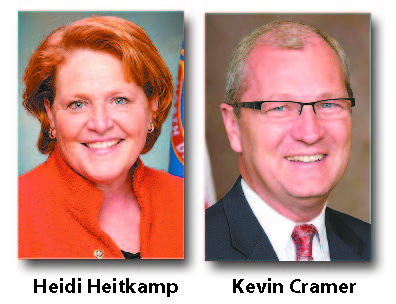 The U.S. Commerce Department has reaffirmed tariffs on Canadian newsprint imports that have spiked the costs of printing for newspapers in North Dakota and across the country.
In the decision, Commerce decided to spare several Canadian producers from the antidumping charges, revising the duties by setting them at 8.4 percent to 20.26 percent instead of the current 4.4 percent to 32 percent.
But already the tariffs have impacted newspapers. For example, The Grand Forks Herald last month identified the tariffs as one reason it is eliminating its print edition on Mondays.
Newspapers across the state are taking various steps to offset the increased cost of printing.
The tariffs are a response to a complaint from NORPAC, a hedge fund-owned paper producer in Washington State, which argues that its Canadian competitors are taking advantage of government subsidies to sell their product at unfairly low prices.
The Commerce decision is not final. Another decision on the matter will occur later this month when the International Trade Commission (ITC) decides whether to reverse the tariffs at the end of its investigation into whether imports have caused or threaten to cause material injury to the U.S. industry.
The ITC vote is expected on Aug. 29.
There are indications that opposition to the tariffs is building on both sides of the aisle in Congress. House Speaker Paul Ryan contacted Commerce Secretary Wilbur Ross directly to voice his concerns. Senate Minority Leader Chuck Schumer declared in a newspaper column that the tax "would do irreversible harm" to the newspaper industry.
In North Dakota, Sen. Heidi Heitkamp and Rep. Kevin Cramer have signed on as co-sponsors of bills to provide relief to newspapers whose costs have dramatically increased as a result of newsprint tariffs.
In addition, 19 members of Congress testified at the International Trade Commission's hearing last month in opposition to the newsprint tariffs.
NDNA is a member of the STOPP Coalition, a national group fighting the tariffs.
The ITC's final determination is scheduled for Aug. 29 and the deadline for submitting public comments to the Commission is Aug. 20.
For further information, contact Sarah Elmquist Squires,
NDNA Executive Director,
866-685-8889 or sarahes@ndna.com