North Dakota's top newspapers selected
5/11/16 (Wed)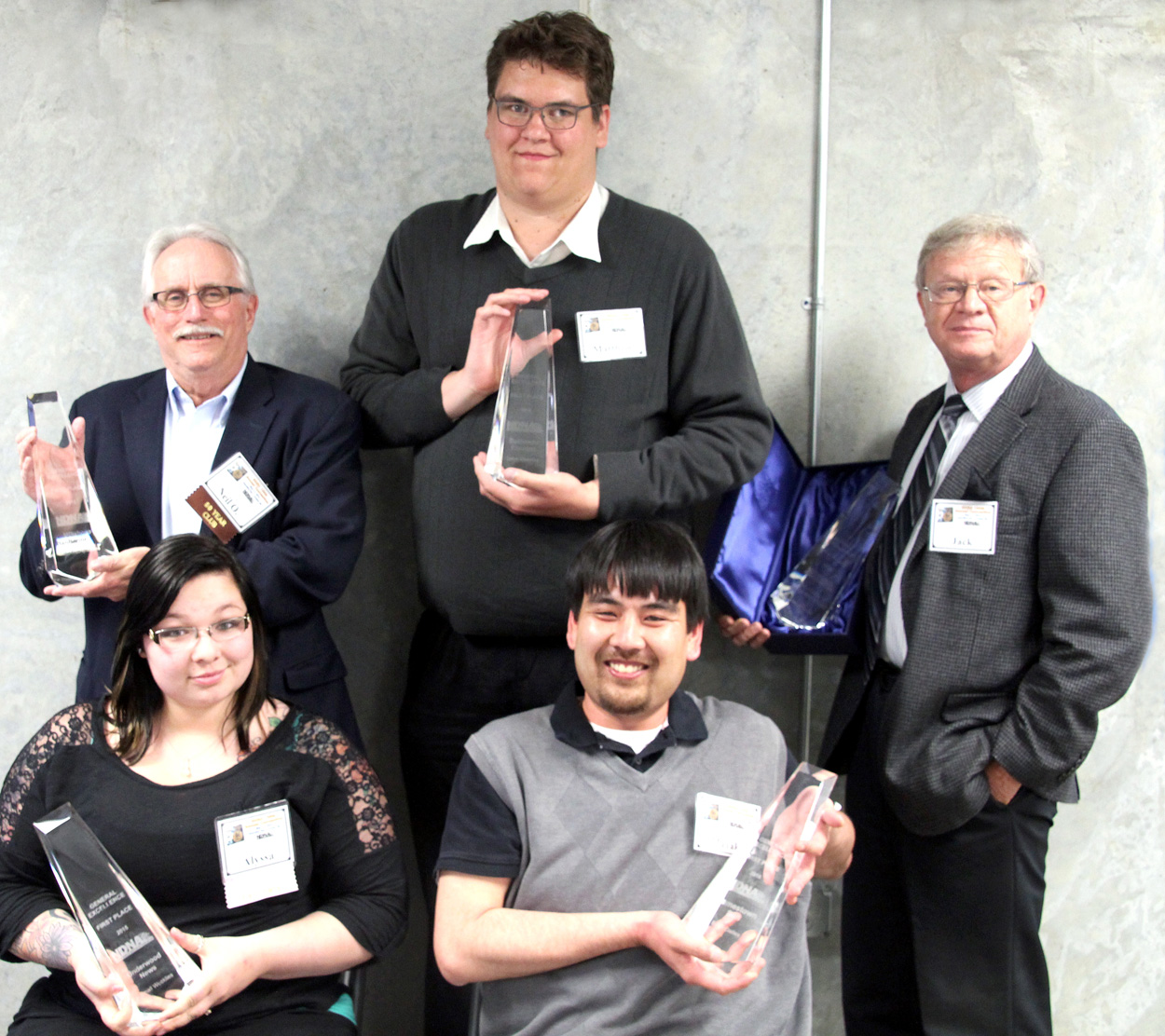 (Photo: Receiving trophies for General Excellence awards at the NDNA convention in Crosby were (back) Neil O. Nelson of the Hillsboro Banner, Mathew Semisch of The Bottineau Courant, and Jack Zaleski of the Forum of Fargo-Moorhead. Front: Alyssa Adam, accepting for the Underwood News, and Masaki Ova for the Jamestown Sun. Photo by Steve Andrist / NDNA Executive Director)
Five newspapers have been judged best in their classes in the North Dakota Newspaper Associations Better Newspaper contest.
The Forum of Fargo-Moorhead was named the best large daily newspaper in the state, winning the general excellence award for newspapers with 12,001 or more subscribers.
The Jamestown Sun won the general excellence award for small dailies, and the Bottineau Courant was named the state's best large weekly.
Among medium sized weeklies, the Hillsboro Banner claimed the general excellence award, and the Underwood News took top honors for small weeklies.
Contest judges said the Forum is a "Strong daily that deftly handles ambitious stories from breaking news to compelling features to investigative reports."
The Grand Forks Herald was second and the Bismarck Tribune third in general excellence for large dailies.
Judges said the Jamestown Sun offers a "Compelling mix of local reporting and storytelling in news and sports, local voices on the opinion pages and nice use of photos."
The Dickinson Press was the second place general excellence for small dailies, followed by the Wahpeton Daily News and the Valley City Times Record.
For large weeklies, judges said of the Bottineau Courant: "This paper had so many good things going for it that it was difficult to find any faults."
Second place for large weeklies went to The Foster County Independent, while third went to The Journal of Crosby and honorable mention to the McKenzie County Farmer of Watford City.
Of the Hillsboro Banner, judges said: "Excellent photography, variety of stories, layout and sports coverage elevates the Banner to North Dakota's best."
For medium weeklies, second place went to The Tioga Tribune and third to The Hankinson News-Monitor and honorable mention to the Hazen Star.
For small weeklies, judges said "The Underwood News had the best combination of excellent writing, detailed news coverage and solid layout and design."
The Walsh County Press in Park River was awarded second place in general excellence for small weeklies, followed by the New Town News and Center Republican.
Several special awards were also handed out Friday, including:
• Becky Jacobs of the Grand Forks Herald was named rookie reporter of the year.
• Faith Harron of The Bismarck Tribune was named high school reporter of the year.
• The award for Community Service Journalism went to The Forum for its coverage of sex trafficking in North Dakota.
• The First Amendment Award went to The Grand Forks Herald for "near continuous emphasis on transparency through the course of an entire year."
• The award for Public Notice Journalism went to the Grand Forks Herald.
• The Newspapers in Education Teacher of the Year Award was given to Carly Endres, a teacher at Schroeder Middle School in Grand Forks.
• The Newspapers in Education Newspaper of the Year Award went to The Forum of Fargo-Moorhead.
For further information, contact Sarah Elmquist Squires,
NDNA Executive Director,
866-685-8889 or sarahes@ndna.com