NDNA/NDNAEF Elections
5/04/17 (Thu)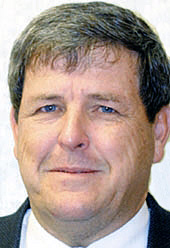 Harvey Brock named president of state newspaper association
Harvey Brock, publisher of The Dickinson Press, has been elected president of the North Dakota Newspaper Association.
Brock was elected Friday, April 28 at the association's 131st annual convention in Aberdeen, S.D. He succeeds Sara Plum, editor of the Benson County Farmers Press in Minnewaukan and The Lakota American.
"Despite the faddish attraction of social and online media, newspapers remain North Dakota's leader in the practice of journalism," Brock said.
"Whether people are reading printed or electronic content, they rely on their local newspaper to keep them informed and engaged in their communities."
Paul Erdelt, publisher of the Steele Ozone and Kidder County Press, was elected first vice president of the association, and Jill Denning Gackle, general manager of a Garrison-based newspaper publishing company, was tabbed for second vice president.
Brock's election marks a first for NDNA -- never before has a Dickinson Press employee become president of the association.
He attended Montana State University and has spent nearly 25 years in the newspaper business. Before becoming publisher in Dickinson he was publisher at daily newspapers in Clinton, Iowa, and Havre, Mont.
"These may be difficult times for newspapers," Brock said, "but quality community journalism is needed as much now as ever and I look forward to working with our association to ensure that need is met."
NDNA members also elected two new directors during the annual meeting. They are:
-- Frank Perea, group manager for Country Media's southwest North Dakota newspapers in Bowman, Hettinger, New England and Killdeer, as well as it's paper in Baker, Mont.
-- Karen Speidel, managing editor of the News-Monitor in Hankinson.
Continuing on the NDNA board are Matt McMillan of Forum Communications and Leah Burke of the Emmons County Record in Linton.
Re-elected to the NDNA Hall of Fame Committee were Bill Devlin of Finley, Duane Schatz of Elgin and Mike Jacobs of Gilby.
NDNA Education Foundation directors elected
Members of the North Dakota Newspaper Association Education Foundation have elected four members to the organization's board of directors.
Mike Gackle, president of BHG Inc. of Garrison, was elected to a second three-year term during the foundation's annual meeting Friday, April, 28.
Three directors were elected to their first terms on the board. They are:
-- Kirsten Stromsodt, editor of the Grand Forks Herald.
-- Dustin Monke, marketing director for the North Dakota Agriculture Department.
-- Sarah Cavanah, assistant professor of journalism at the University of North Dakota.
Continuing on the board are Aaron Becher of Fargo, Tony Bender of Ashley, Daryl Hill of Bismarck, Jim Fleming of Bismarck, Tom Monilaws of Absaraka, Jack McDonald of Bismarck and Sara Plum of Maddock. As president of NDNA, Harvey Brock of Dickinson will also serve on the board.
The Education Foundation is a charitable non-profit that supports programs for journalism education, literacy and free speech.
For further information, contact Sarah Elmquist Squires,
NDNA Executive Director,
866-685-8889 or sarahes@ndna.com