Two ND papers gain national awards
7/13/22 (Wed)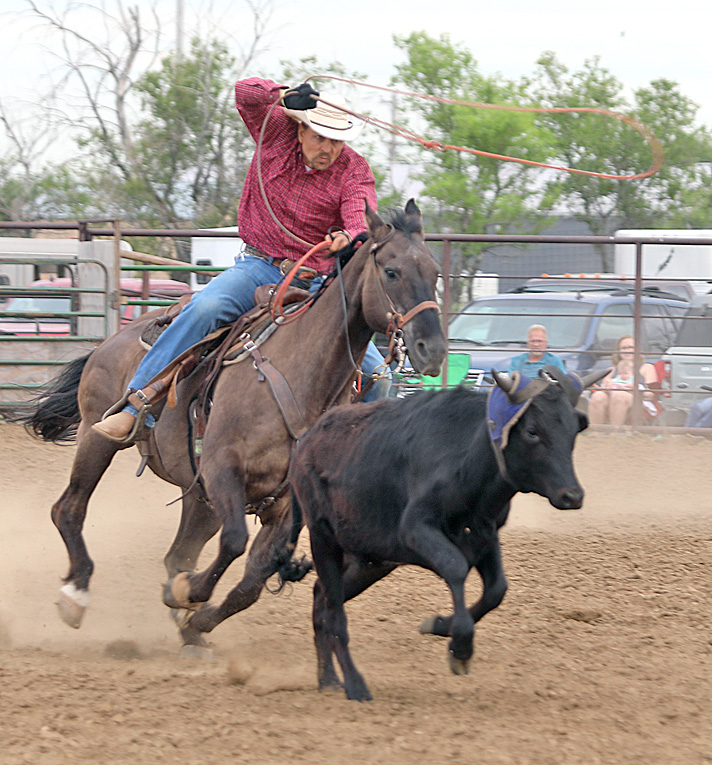 Photo: The Journal's Brad Nygaard took first place in the same division for a shot of a roper at the Divide County Fair.
---
For the fourth time in five years a Journal Publishing newspaper has placed among the best newspapers in the nation for local news coverage.
The award, for coverage in the Tioga Tribune in 2021, is just one of eight first place prizes claimed by Journal Publishing in the National Newspaper Association's Better Newspaper Contest for work in 2021.
"We participate in this contest to measure our work against others in our circulation size across the industry and the nation," said Publisher Cecile Wehrman. "First place recognition affirms we're meeting industry standards."
Judges particularly noted the contribution of Tribune Reporter Jacob Orledge, who is the newspaper's only reporter. "We are so fortunate to have someone with Jacob's energy, conscientiousness and work ethic," said Wehrman. "He doesn't measure his work by the number of hours in a regular work week but by what the community needs to know. That means many, many nights covering meetings and many weekends documenting community events."
Judges also gave high marks for the commentary page, including the Question of the Week series, which poses questions to students, as well as Orledge's ability to find human interest stories like one about triplet calves being born on an area ranch.
Orledge was also recognized with first for best business story for reporting about the potential for hydrogen development in North Dakota and for best sports feature for a profile on Bree Rose, the Tioga athlete challenged with an eye disease.
Tribune contributor Dave Tengesdal won a second place award in feature photo for his shot of a bronc rider at a White Earth rodeo. The Journal's Brad Nygaard took first place in the same division for a shot of a roper at the Divide County Fair.
Wehrman received a first place award for an ad she designed to promote Tribune subscriptions as Christmas gifts. The ad ran in the Tribune's Christmas insert and placed in the category best holiday ad.
Other firsts for The Journal, went to Wehrman for best editorial and for best non-profile feature on the story about an American living in Japan seeking information about a Williams County flyer whose plane was shot down during WWII.
Wehrman and Nygaard shared a second place in business reporting for coverage of the closure of St. Luke's Care Center.
Nygaard also won first place for best reporting on local government. Wehrman received honorable mention in health care reporting for a story about how the Omicron surge of COVID was complicating hospital transfers out of Crosby.
The Walsh County Record, Grafton, brought home two first place awards, one second and two honorable mentions from the National Newspaper Association's (NNA) Better Newspaper Contest for work in 2021.
The Record placed first in its circulation category for newspaper of less than 3,000 circulation in two categories, for best special section and for best sports section.
The newspaper staff was credited for the first place work on its annual agriculture section. The judges commented, "Great use of in-house material. Also makes use of useful extension service type content. Informative on a topic that really matters in rural communities where farming is often the primary economic driver. Photography is sharp and attractive, as is the design and use of graphics."
Chelsea Wysocki was credited for the sports page first place award. The judges commented, "Nice big headlines. Great photos."
Photographers Larry Biri and Steph Cronje were credited for the second place award for an arrangement of photos at harvest time. The judges said, "Great composition on these photos -- especially on the wheat and sunflower photos."
Biri also received honorable mention in breaking news for a shot of Rick Beyer holding a piece of ceiling tile with a smoke detector.
"Good cropping and composition. Good choice by the photographer to frame the photo," said the judges.
The staff also received honorable mention for best use of photographs based on submissions for the June 30 and July 7 issues from last year. The award puts The Record in competition with newspapers of any size, including daily newspapers, so it is particularly impressive to win recognition in that category.
For further information, contact the
NDNA Executive Director,
866-685-8889 or director@ndna.com