Nonprofit to provide 'truth-telling' research
12/08/21 (Wed)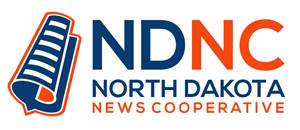 Newspapers could lay down and play dead.
Or they could be part of a movement led by a new nonprofit organization, North Dakota News Cooperative, to enhance the content in the state's newspapers through a statewide reporting service.
The nonprofit has incorporated and has begun to advertise for a managing editor in hopes of providing new journalism to citizens across the state by early 2022.
Several years ago the North Dakota Newspaper Association created a Future of Newspapers Committee to conduct projects intended to sustain newspapers into the future, according to co-chair Steve Andrist, former newspaper publisher. Those projects have included readership campaigns, advertising promotion and more. Two years ago the committee turned its attention to something more dramatic, the ND News Cooperative.
"The main function of the organization is to provide original content of state-wide significance for use – at no cost – by newspapers and other media outlets in the state," Andrist said.
The managing editor will report and manage the reporting program for the organization, which hopes to employ at least one additional full-time journalist.
Garrison Publisher and NDNC Co-Chair Jill Denning Gackle noted that local coverage of schools, cities and counties is the bread and butter of every newspaper. "But we think the state's newspapers will be enhanced by in-depth, deep dive stories that look at issues our existing staffs don't have the bandwidth to cover."
She said the program will be similar to the legislative coverage interns have provided, but will be staffed year round by seasoned journalists.
NDNC Board Member and Crosby Publisher Cecile Wehrman agreed that community newspapers don't always have the resources or manpower to spend weeks digging into complex issues. "And chances are, if it's impacting my community, it's a story that impacts one down the road 60 miles in every direction."
She said the content will add to the local stories she and her staff cover.
"I look forward to having at my disposal top-notch reporting to supplement our pages with quality content that is relevant and might otherwise go unreported," Wehrman said.
Board member Tom Gehhardt, a former broadcast journalist who currently works in Bismarck for North Dakota United, said today are overwhelmed with volumes of news and information from many sources. "But journalism suggests a higher standard that questions and examines stories that impact our lives," he said. "The North Dakota News Cooperative provides one avenue to ensure that important questions continue to be asked and that important stories continue to be told."
Once a managing editor is in place, the organization will look closely at how to educate the public – young and old – about news literacy, Andrist said.
"Journalism is reporting that has been vetted, multi-sourced, contextualized and includes various perspectives," he said. "In the information age, much information is shared on social media and other digital platforms without regard for where it came from, whether it's true, or whether it has been produced to advance a particular perspective or point of view. News literacy means understanding the difference."
Another NDNC board member, Cynthia Lindquist, president of Cankdeska Cikana Community College at Fort Totten, said journalism is about truth telling through research. "It is finding facts and weaving a story to help people understand and broaden perspective. I am passionate about the North Dakota News Cooperative because it represents people and entities that I trust. I am very hopeful that news literacy will be expanded and improved through this new venture."
ND News Cooperative will be working with North Dakota educators to provide programming to teach news literacy and programs for service and community organizations. Andrist said, "In addition, we plan to develop a podcast that details how many steps were taken and sources contacted in the development of our stories so that people understand the depth of a journalistic enterprise," he said.
NDNC plans to promote greater news literacy through attraction of new readers and by modeling quality, objective, balanced coverage people can trust, untethered from any local advertising or editorial stance, Wehrman said.
The organization is the passion of a board of directors from various backgrounds: businessmen, educators, bankers, journalists and former journalists. Board members in addition to those quoted above include Hal Gershman, a Grand Forks businessman; Eric Hardmeyer, retired president of the Bank of North Dakota; Mary Jo Hotzler, chief content officer at Forum Communications in Fargo; and Mike Jacobs, former publisher of the Grand Forks Herald.
The board is responsible for fundraising. Start-up funds came from the North Dakota Newspaper Association Education, trusts and foundations. Donations are accepted through NDNA.
The website is www.newscoopnd.org.

For further information, contact the
NDNA Executive Director,
866-685-8889 or director@ndna.com